If you're new to the Bay Area, you're probably noticing that real estate and rental properties are not cheap. San Francisco is consistently ranked as one of the highest cost of living cities in the country. As you begin your housing search, you may ask yourself a common question: What are the pros and cons of short term furnished rentals in the Bay Area?
If you are a student or only going to be in the area for a short time, furnished apartments offer many benefits. However, unfurnished places can also be quite appealing and often a bit cheaper, depending on what area of town you are looking into. Below are some pros and cons for renting a furnished home or apartment.
Furnished Apartment Pros
Saving money – A furnished apartment will cost more in rent, but you'll save a ton of money on furniture, bedding, kitchen appliances and many other items that might be a hassle to buy if you don't already own them. Unfurnished apartments are great in the long run, but short term furnished rentals are a better temporary living solution. 
Shorter leases – Furnished apartments and housing units are designated for higher turnover – a strategic business move to tap into the 'people-on-go' market. You can often find a much more flexible lease at a furnished place, and very few of them will require a long-term agreement. Unfurnished spots usually require a 1 year minimum lease, or sometimes longer, whereas short term furnished rentals only require a minimum lease of a one month stay.
Moving made easy – Moving is terrible. The more stuff you have to move, the worse it is. If you are new to the Bay Area, you may not even have the muscle that you need to help you carry some of the larger furniture items like couches and bedding. A furnished apartment means you won't have to unpack and repack. 
Flexibility on the go – If you're in a time crunch, you won't have to waste as much time packing, unpacking, labeling boxes, getting rid of unwanted furniture, acquiring new furniture, etc, etc. You can simply move out with very little notice, and be onto your next adventure with your hitchhiker's thumb and knapsack over your shoulder. Short term furnished apartments are great for frequent travelers, like consultants and travel nurses.
Furnished Apartment Cons
You're liable for the furniture – With furniture that is not yours, you have to be extra careful not to ruin it or you will likely be financially obligated to fix it back to like-new condition, or replace it altogether. A night of debauchery can get expensive if you are having to pay a cleaning crew to get the pizza stains out of your couch and carpet.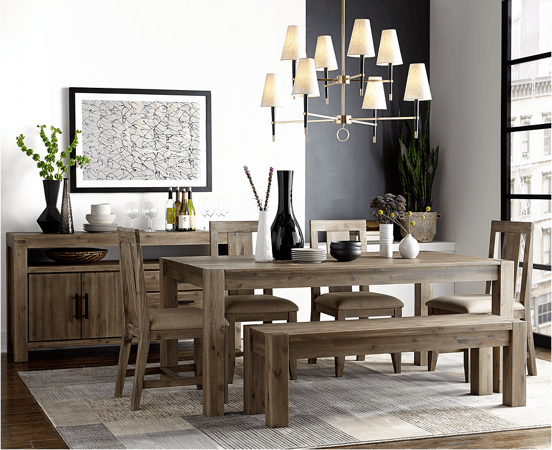 Borrowed from Macy's
Higher Rent – You are not only renting the apartment, but you are also renting the furniture within. The rent and security deposits will reflect that. The silver lining is that your returned security deposit, assuming you take extra good care of the furniture within, will be large as well.
Slim Pickin's – Short term furnished apartments aren't quite as readily available as unfurnished. When searching for a place, you might not have as many options compared to unfurnished apartments.
Locked into the Décor – You will have fewer options with the décor of a furnished place, and redecorating will not only cost money, but also require approval from the landlord. Also, figuring out what to do with the old décor can be a pain. Hanging art on the wall or adding a bit of flare through simple shelving, knick knacks or curtains can help turn your unbearable décor into something a little more pleasing to the eye.  
A short term furnished apartment offers flexibility and liberates you from moving until you find a more permanent place. Make sure you weigh the pros and cons of your next rental unit and understand nightly vs monthly rentals to ensure you're getting exactly what fits your lifestyle the best.